Infographic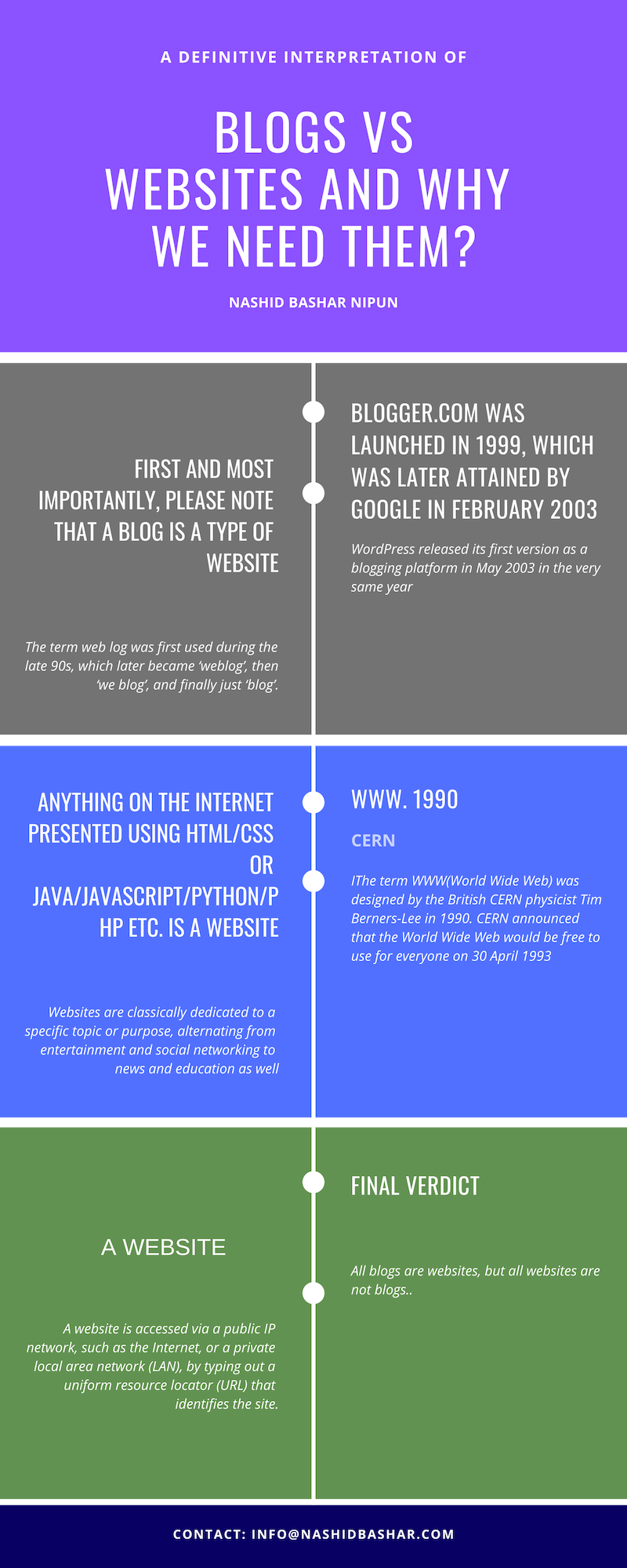 Blog Vs Website a detailed comparative discussion
A Blog is an abbreviation of "web-log" which means a regularly updated website or web page, typically one run by an individual or small group, that is written in an informal or conversational style. – example- TMZ.com(Newsweek named TMZ the "Breakout Blog of 2007.").
First and most importantly, please note that a blog is a type of website.  So if a blog is a type of website, what is a website then?
A website is an assemblage of related web pages, comprising of multimedia content, usually accessed with a common domain id, and available on at least one web server(for ex-Amazon). Simply put, a website is a set of related web pages located under a single domain name.
Just like the saying: "All tigers are animals, but all animals are not tigers?"
Well, the same can be said about blogs and websites – "All blogs are websites, but all websites are not blogs." Both are equally very important but the basic difference is how data is being presented (i.e. the format).
What is a Blog?
A blog is a sort of website where informative content is presented every now and then in reverse chronological order which means new blog posts get listed first. Blog content is often denoted as entries or "blog posts".
Blogs are usually run by an individual or a small group of individuals to present information in a conversational and informative manner. However, there are numerous corporate blogs that create a lot of informative and thought-leading style content.
History of Blogs
Blogs developed from online diaries and journals from back in the mid-90s. During that time, netizens were already posting personal web pages where regular updates from their day-to-day personal lives, thoughts, and social commentary.
The term web log was first used during the late 90s, which later became 'weblog', then 'we blog', and finally just 'blog'.
Due to the mounting number of such web pages, numerous tools started to appear, which made it easier for users to produce online journals and blogs. These tools assisted in popularizing blogging and made the technology available to non-technical users. Wondering how to create a blog?
The popular blogging website Blogger.com was launched in 1999, which was later attained by Google in February 2003.
WordPress released its first version as a blogging platform in May 2003 in the very same year.
What is a Website?
A website in return can be anything. Anything on the internet presented using HTML/CSS or Java/Javascript/Python/Php etc. helps to construct a website. A website may be complemented with a blog, but the home page would be more for browsing other pages and not just posts. Fully functional and eye-catchy websites are usually cost-consuming tasks as you would have to build from the base up. However, with platforms and services like Adobe Dreamweaver, GoDaddy, Wix you could build your own website.
A blog can just be a fragment of a website, in the form of an attached page and interrelated to the homepage. A website is of a superior aspect and its limitations are slight to none. A website can be anything from a solo page to a 1 Billion-users social network (Facebook). A website is accessed via a public IP network, such as the Internet, or a private local area network (LAN), by typing out a uniform resource locator (URL) that identifies the site.
A Website can have numerous functions and can be used in various fashions; a website can be a corporate website for a company, a personal website, an organization website, a government website, etc. Websites are classically dedicated to a specific topic or purpose, alternating from entertainment and social networking to news and education as well. However, it has more of a formal tone and less engaging than blogs.
History of Websites
The term WWW(World Wide Web) was designed by the British CERN physicist Tim Berners-Lee in 1990. CERN announced that the World Wide Web would be free to use for everyone on 30 April 1993. Other protocols such as File Transfer Protocol and the gopher protocol were used to retrieve individual files from a server before the introduction of HTML and HTTP.
Attributes of a Blog
Not at all like websites, a blog isn't static, they are dynamic and regularly evolving. Online journals or blogs comprise detailed and far-reaching information about specific subjects or topics when you browse through a keyword on the web in search engines. A large number of pages showed up for a single keyword a vast majority of them are blogs.
Web journals or blogs have an extensive variety of topics. enormous blogs have thousands of pages indexed in search engines, the light of those blogs have tremendous web traffic, numerous individuals visit these blogs day by day.
Blogs have positioned higher on web search engines, due to enormous web traffic numerous individuals come straightforwardly or seek on web search engines and reach these Blogs.
If you are a professional or a one-man gang, then a blog is the best option for you, because, with a blog, you can easily build an online reputation, position yourself as an expert or a thought-leader, and also attract more people to your personal brand.
If you want a professional website, you need a professional web designer and developer to build one. This may cost more than blogs but putting money in for a website is a long-term investment.
A blog is set up in a manner that lets the author periodically post a journal, log where content is regularly updated to attract new potential readers and it does not have to be all formal. It is more Interactive than websites and more importantly, they are more informative and educational. Here the Interactivity relates to a particular industry/customer issues.
Attributes of a Website
Most websites have an essential level of data for instance presentation of items and administrations.
Websites are worked for the particular reason consequently they have low web activity for instance if a website is of a school then perhaps it has visitors just the students of the specific school.
Low immediate and natural activity, in light of the fact that exclusive a couple of individuals need to visit the website for some particular deeds. This is the reason behind internet search engines not giving them a higher rank.
If it's a company, then you need a website, and you can also have a blog on it to share your opinion.
If you're on a tight budget, then go for a blog, as blogs are cheaper to build than static websites. You can also build a blog yourself.
So briefly speaking the content of a website is more static, formal/professional and it is not very interactive. In most websites interactivity does not exist. There is only one-way communication. Most of the content is designed to be transactional. Here most of the communication with users is about the products or services that they are providing. Almost everyone who owns a business has a website. In fact, it is almost considered the heart of the business in today's virtual world.
Websites and Blogs work in very diverse ways. They serve various purposes and produce all sorts of short-term results. However, both of them are necessary for growing your online exposure and fortifying your online business/brand reputation. It is vital to have both as part of your online brand presence. They perform well as a team and undeniably holds the key to your success in the digital world.
Also, Read the related content
An Overview of The History of Marketing
Traditional Marketing Vs Digital Marketing A Complete Guide